ABOUT TE CONNECTIVITY

TE Connectivity is a global industrial technology leader creating a safer, sustainable, productive and connected future. They offer a broad range of connectivity and sensor solutions, proven in the harshest environments, enabling advancements in transportation, industrial applications, medical technology, energy, data communications and the home. With approximately 80,000 employees, including more than 7,500 engineers, working alongside customers in approximately 140 countries, TE ensures that EVERY CONNECTION COUNTS. Learn more at www.te.com and on LinkedIn, Facebook, WeChat and Twitter.
Featured products
NEW Interactive Brochure
Explore our NEW Interactive eCatalogue showcasing our broad range of TE Connectivity products.
HVAC solutions for comfort and control
Innovative technologies that provide effective and cost efficient solutions
Quick to install products that provide industry-proven solutions
High performance, reliable miniaturized components for space saving
HVAC systems designed to withstand harsh conditions and reduce corrosion
Product solutions to withstand thermal shock, condensation and humidity
Keep ahead of the trends for increased HVAC comfort and control
Innovation in technology is enabling systems to run more efficiently and cost-effectively and our solutions from TE will allow you to stay ahead. Explore the TE Connectivity range to see how we can help you with your heating, ventilation and air conditioning designs.
DEUTSCH Connectors
Wide operating temperature range & silicone rear wire and interface seals allow these connectors to withstand extreme temperature and moisture.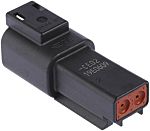 Cable Markers
Designed for the most rigorous indoor or outdoor use, TE offers a wide range of cable markers for a wide range of industries and applications.