Product Details
Han-Com®, Han D®, Han DD® and Han® E Crimp Contacts
A range of high quality turned crimp contacts for Han-Com®, Han D®, Han DD® and Han® E inserts. The appropriate parallel action crimp to tool is also available for optimum crimp quality, as is the appropriate service crimp tool.
Features & Benefits
• The parallel action crimp tool offers optimal crimp quality and features a rotating locator. See stock number 114-7706.
• For service and small assembly, the service crimp tool is offered complete with locator. See stock number 313-6607.
Product Application Information
The Han-Com combination connectors are industrial connectors designed for providing power and signal contacts in one insulation body. The Han-Q Series are connector inserts with a compact design, while the Han D/DD/DDD series are connectors built for high pin count interconnect applications.
Note
Han-Com® inserts have mixed power and signal formats. A typical identifier is '4//2' which means there are 4 power contacts and 2 signal contacts. The current rating is different for each type of contact within a particular insert.
Approvals
UL, CSA, SEV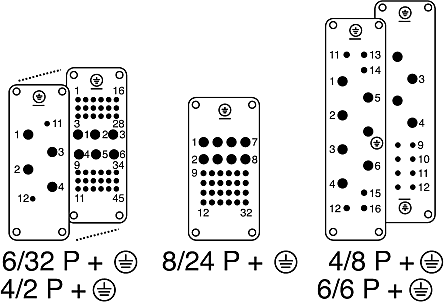 Service Crimp Tool for HAN Connector
From Harting, this service crimp tool is for use with turned Han D, Han E, and Han-Yellock Series crimp contacts. The crimp tool contains interchangeable locators designed for this range of crimp contacts. The crimp tool is able to crimp male and female contacts from 0.14 mm to 2.5 mm. This service crimp tool also has a ratchet mechanism that prevents premature opening before the completion of a crimp, insuring consistent crimping quality.
Features & Benefits
Interchangeable locator
Ratchet Action
Early Release Action
Product Application Information
This service crimp tool is designed to operate on Harting Han D, Han E and Han-Yellock series crimp contacts.
Han-Com® Signal & Power (Crimp and Screw)
These Han- Com® inserts are available in current ratings from 10A to 100A. They are intended for use typically with hoods and housings; RS stock Nos. 181-0561, 181-0741, 181-0785, 363-8535, 363-8585 and their associated ranges. These hood and housing ranges are associated to a specific Harting 'Size' number identifier
Warning
These connectors should not be mated or unmated under electrical load. Connectors of the same or different types arranged in a line should be polarised to prevent the possibility of wrong connection.