A Complete Guide to Wood Screws
Our handy guide is here to help you easily identify which size and type of wood screws you need for your project.
What are Wood Screws?
Wood screws are mainly used for secure connection of wooden materials. They work with chipboard, MDF, softwood and hardwood. There are many types of wood screws available, complete with features such as shanks to avoid wood splint, twin threads for effective drive, and tips meaning holes don't have to be pre-drilled. You can buy wood screws complete with various drive types and head shapes. However, the Pozidriv and countersunk head varieties are the most popular.
Originally, wood screws were made of brass or steel and featured a shaft with increasing thickness in proximity with the head. It was necessary to drill a pilot hole for the secure fitting of this screw type. However, the modern wood screw has a shank of uniform size in relation to the head. This means that drilling a pilot hole isn't always necessary.
Wood Screw Sizes and Sizing Chart
It is highly important to select suitably sized screws. The thickness of your chosen screw should correspond to the width of the wooden material. You should also ensure that the screw is capable of supporting the weight of the load to be applied.
The diameter or gauge of the screw will be indicated by a number, with the most common wood screws being the #6, #8, and #10. The increasing numbers relate directly to the thickness of the screw. As a rough guide, the #8 screw is recommended for general purposes whereas a #6 screw would be better suited to fine woodworking.
We stock a range of different sized wood screws, as highlighted in this chart:


Wood Screw Type

Wood Screw Size (mm)

Wood Screw Size (inches)

Benefits

12mm

0.4"

Similar insertion speeds to twin-threaded wood screws

May be used in the end grain section

No pilot hole required in the majority of timber

20mm

0.7"

Excellent durability in outdoor applications

40mm

1.6"

Fitting from chipboard and most other types of wood

100mm

3.9"

Allows for high driving torque and 'stick fit' between driver and screw

Drills own pilot hole even in hardwoods and reduces splitting

Single-start thread for better holding power and stripping resistance
Wood Screw Types
Wood screws come in either partially or fully threaded varieties. Steel screws are considered to be the best for woodworking and interior DIY due to their strength and versatility. It has become common to use 'production screws' for such purposes. They feature defined points and threads with sufficient strength and sharpness to penetrate the hardest types of wood. These screws also have the durability required to withstand high power driving and drilling.
Wood screws have a pointed tip, so can be guided into the wood with precision. The threads of the screw wrap around the shank, enabling the screw to be securely driven in. It is advisable to use fine threads for hardwoods and coarse threads for softwoods and plywood.
Wood Screw Head Types
The two most important characteristics of screw heads are the shape and drive type. There are a wide variety of drives, but the main ones are as follows.
Slothead screws are the most common variety used for driving the screw. They feature a simple slot that can be turned with a flathead screwdriver for penetration of the material.
Phillips head screws have much greater functionality than the slothead variety. They can be securely inserted into a range of wooden materials. However, there may be some slipping when driving the final section of the screw into the wood. This often results in damage to the screw and driver.
Square drive or Robertson screws have a number of advantages over the Phillips head variety. These screws feature a square head, greatly reducing the risk of slippage. They are commonly found in pocket screws.
Starhead screws have also become increasingly popular for woodworking applications. They can be fitted with the assurance of reliability and can also accommodate large amounts of torque.
Take a look at the wood screw head type varieties below:
Countersunk Head Wood Screw

The countersunk head wood screw has a canonical shaped hole in the head. It can be securely positioned within the cutting so that it sits flush either with or underneath the wooden surface. The cross-section of the countersunk hole may range from 60° to 120° in diameter.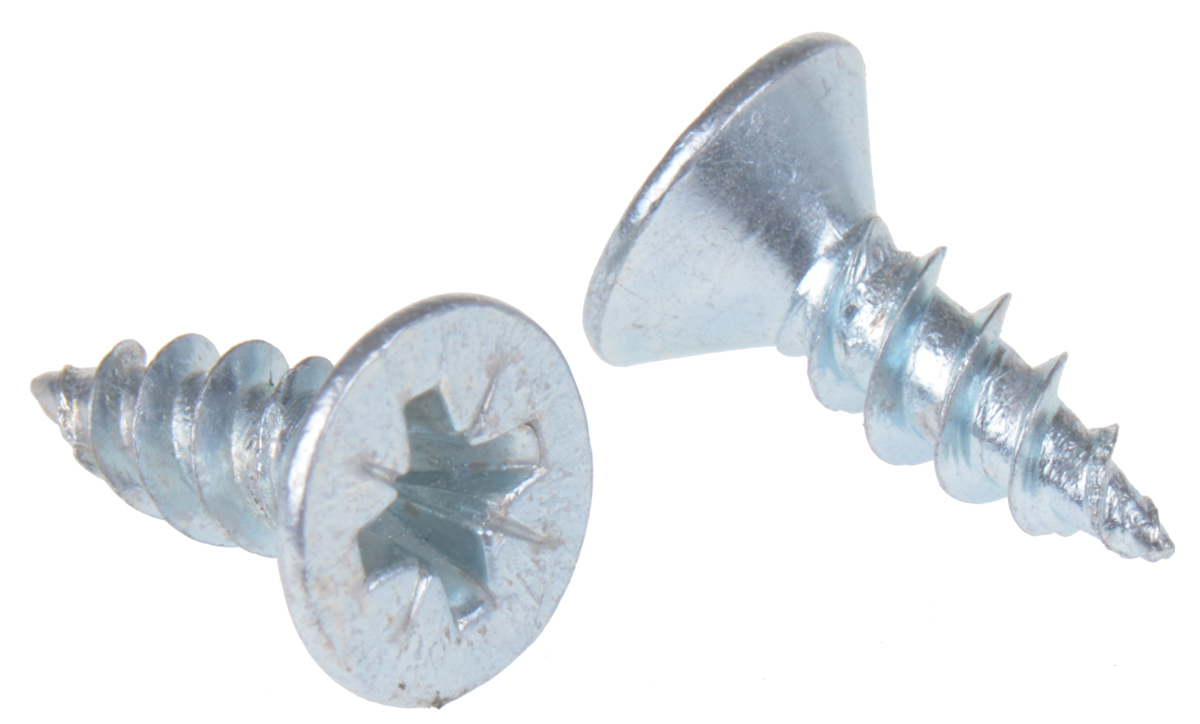 Hex Head Wood Screws

These types of wood screw heads come in a variety of widths for the effective prevention of corrosion. They are suitable for a range of applications including roofing, landscaping and other timber construction projects. They are ideally suited to the fixing of wooden materials designed to support heavy loads.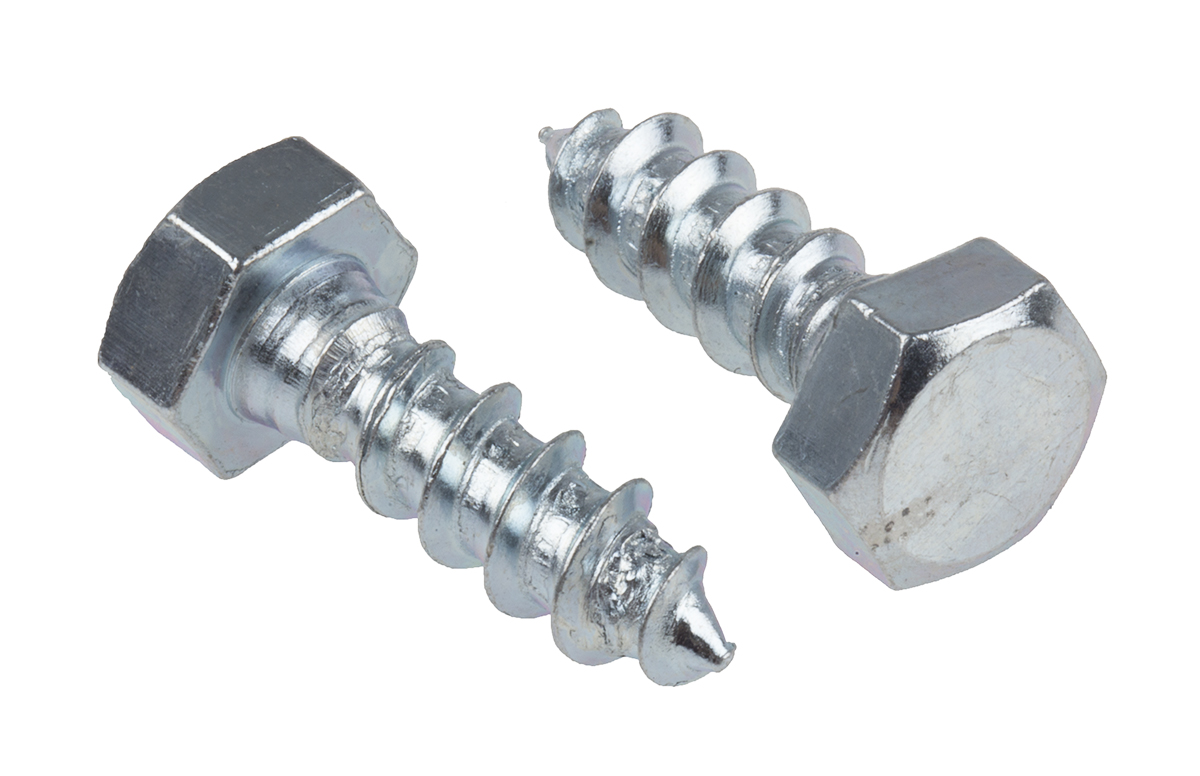 Round Head Wood Screws

These screws typically feature double countersunk heads. They are ideally suited to material insertion with the carpenter's screwdriver. These screws are also known for being particularly quick and easy to drive.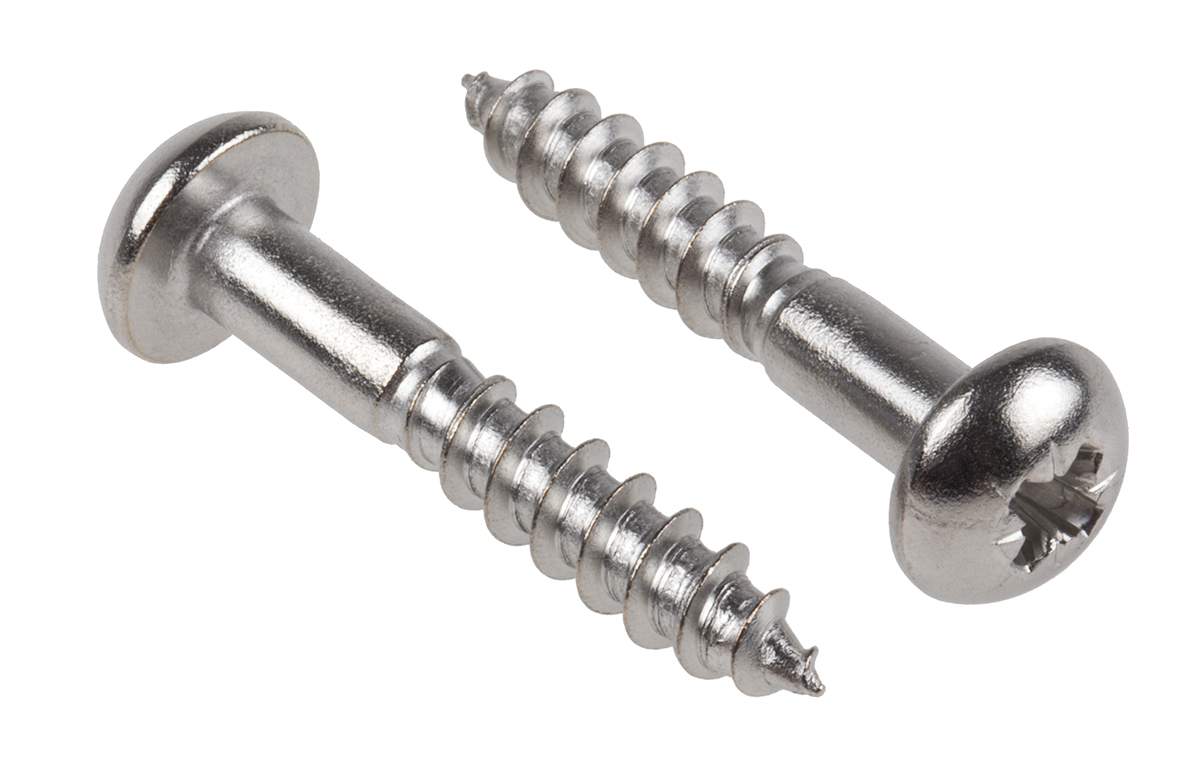 Wood Screws by Material Type
As previously mentioned, wood screws are available in a range of materials. You can buy brass, bronze, and aluminium screws for different applications. However, steel screws are the most popular and the most commonly used variety.
There were issues associated with the use of traditional tapered steel wood screws that made many people choose affordable screws for plasterboard. These screws could be easily driven into wallboard and studs without the need for pre-drilled pilot holes. Unfortunately, they were quite brittle and known to snap under high pressure.
Problems associated with the use of plasterboard screws prompted many people to opt for modern production screws. These strong and reliable screws can penetrate various types of hardwood and some metals. They can also withstand high-intensity driving.
Steel deck screws are commonly used for outdoor applications due to their high levels of corrosion resistance. Silicon bronze and stainless steel screws can also be used where corrosion is a particular concern.
Brass Wood Screws

These screws are normally fitted for their attractive appearance. They have traditionally been used as an alternative to steel screws in naturally acidic wood materials and combined with brass ironmongery for visual effect. You can purchase brass wood screws featuring countersunk, round, or raised heads. Such screws may be used for outdoor applications due to their high levels of corrosion resistance.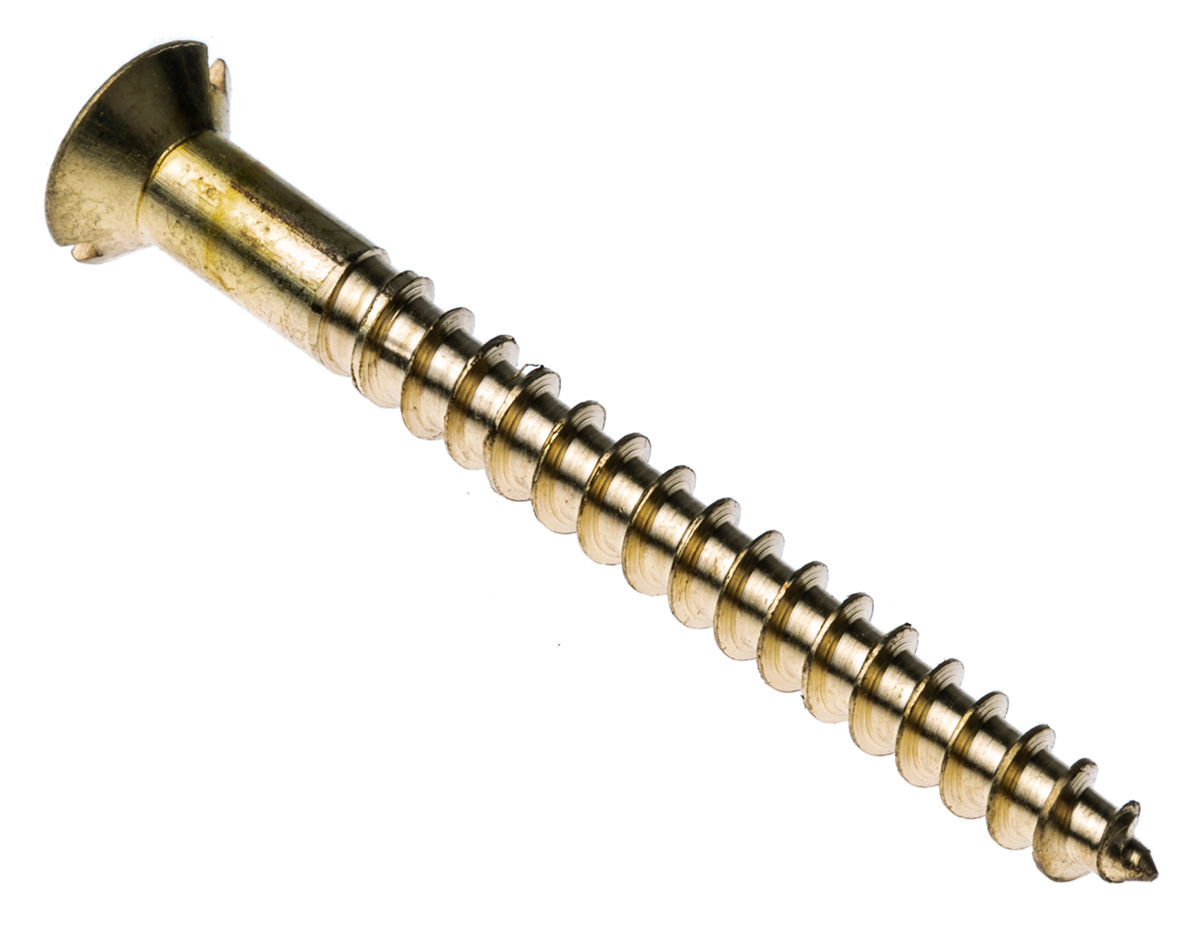 Stainless Steel Wood Screws

These screws are suitable for a variety of purposes, fitting across a range of wood materials. Different head types may be chosen depending on the desired finish. The screws can be fitted with screwdrivers, combi drills, and impact drivers. They also offer good levels of corrosion resistance and are commonly fitted in areas exposed to moisture.
Steel Wood Screws

There is a wide variety of steel screws available. These screws can be fitted without the need for a pre-drilled pilot hole in most wooden materials. Additionally, zinc-plated and hardened steel screws may be purchased for durability and corrosion resistance.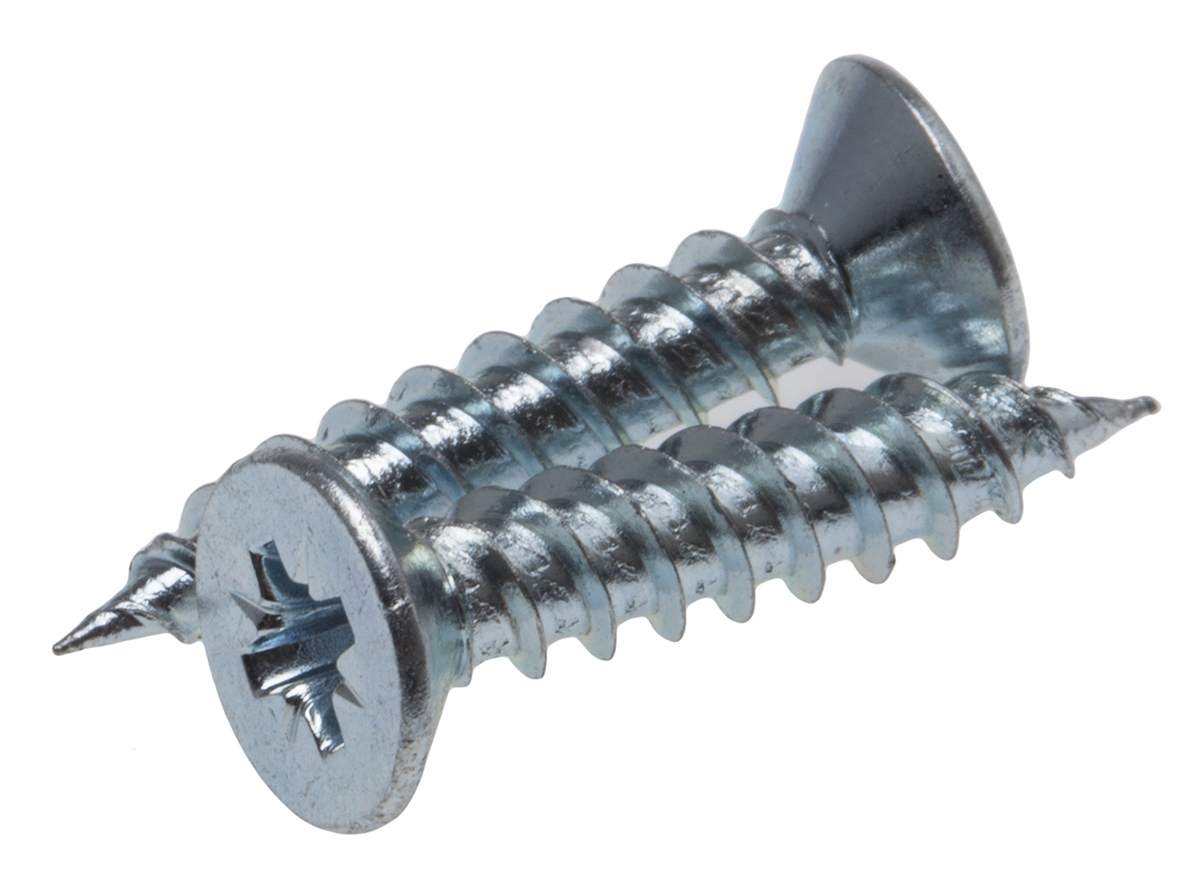 How to Install a Standard Wood Screw
It is essential that you select a wood screw of the appropriate length and strength. Heavier screws should be used wherever there is a need for high-level holding power. It will also be necessary to choose a screwdriver with a suitably sized tip (it should fill the recess). As previously mentioned, it won't always be necessary to drill a pilot hole before penetration with the screw. However, we will outline the complete process here:
Step One: Mark the Spot
Mark a cross in the exact spot where the pilot hole is to be set.
Step Two: Drill Down
Drill directly into the area indicated by the cross.
Step Three: Create a Hole
Make a large and shallow hole where countersinking is required.
Step Four: Drill the Screw
Begin the drilling process with a hand driver and finish with a power driver (set at a reasonable speed to prevent screw hole stripping).
How to Extract A Cross Threaded Wood Screw
There are various methods that can be used to extract a cross-threaded wood screw. Such methods may be required in the event of a stripped screw, caused by anything from the use of poor quality tools to overtightening. You should begin with the use of a manual screwdriver, checking whether the screw slips or grips. It might also be possible to remove a slightly protruding screw with a pair of pliers, gripping the edges of the screw and turning carefully.
If that doesn't work, you can use a combined rubber band and screwdriver for extraction as follows:
Step One: Attach the Rubber Band
Secure the rubber band to the screwdriver tip with your thumb and finger, ensuring that there is no slack.
Step Two: Turn the Screw
Gently insert the covered screwdriver tip into the screw head and carefully turn loose.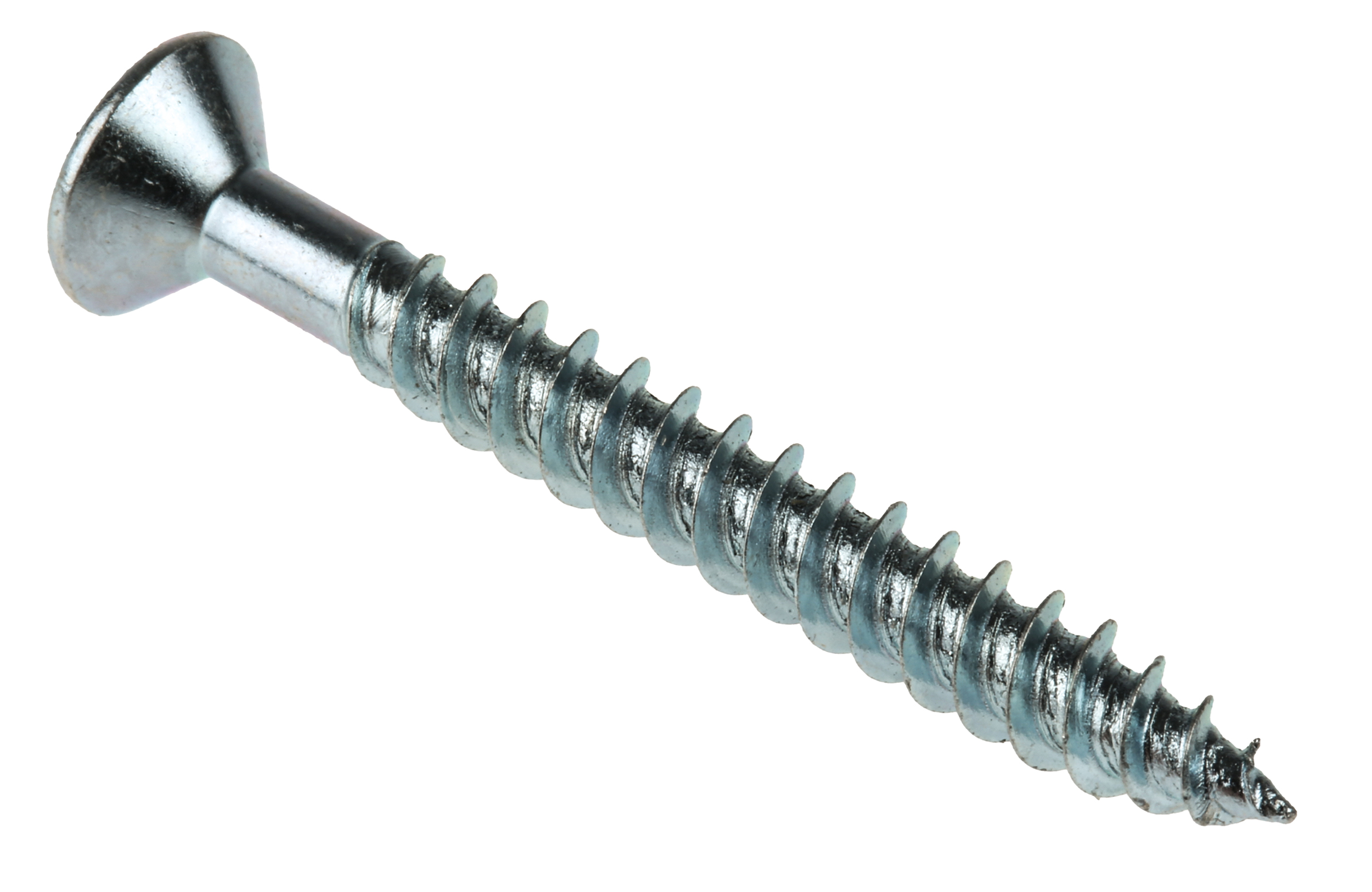 Another solution for removing threaded screws involves the use of a purpose-made extractor. This features tips at either end, with one suitable for drill attachment and cutting when the drill is powered in reverse. It can be used to drill a small hole in the centre of the screw. You can then use the other tip to spin the screw up and away from the material. Alternatively, you can use an extractor to bore a hole around the screw for easy removal. The hole can then be filled with a tapered plug.
A screw extractor should be used as follows:
Step One: Select the Extractor
Select the appropriately sized screw extractor for removal of the stripped screw.
Step Two: Fit the Extractor
Insert the extractor into the drill check and tighten the chuck for secure attachment.
Step Three: Choose Reverse Mode
Set the drill into reverse, drilling into the stripped screw and biting into the screw head.
Step Four: Extract the Screw
Continue powering the drill in reverse until the screw comes loose.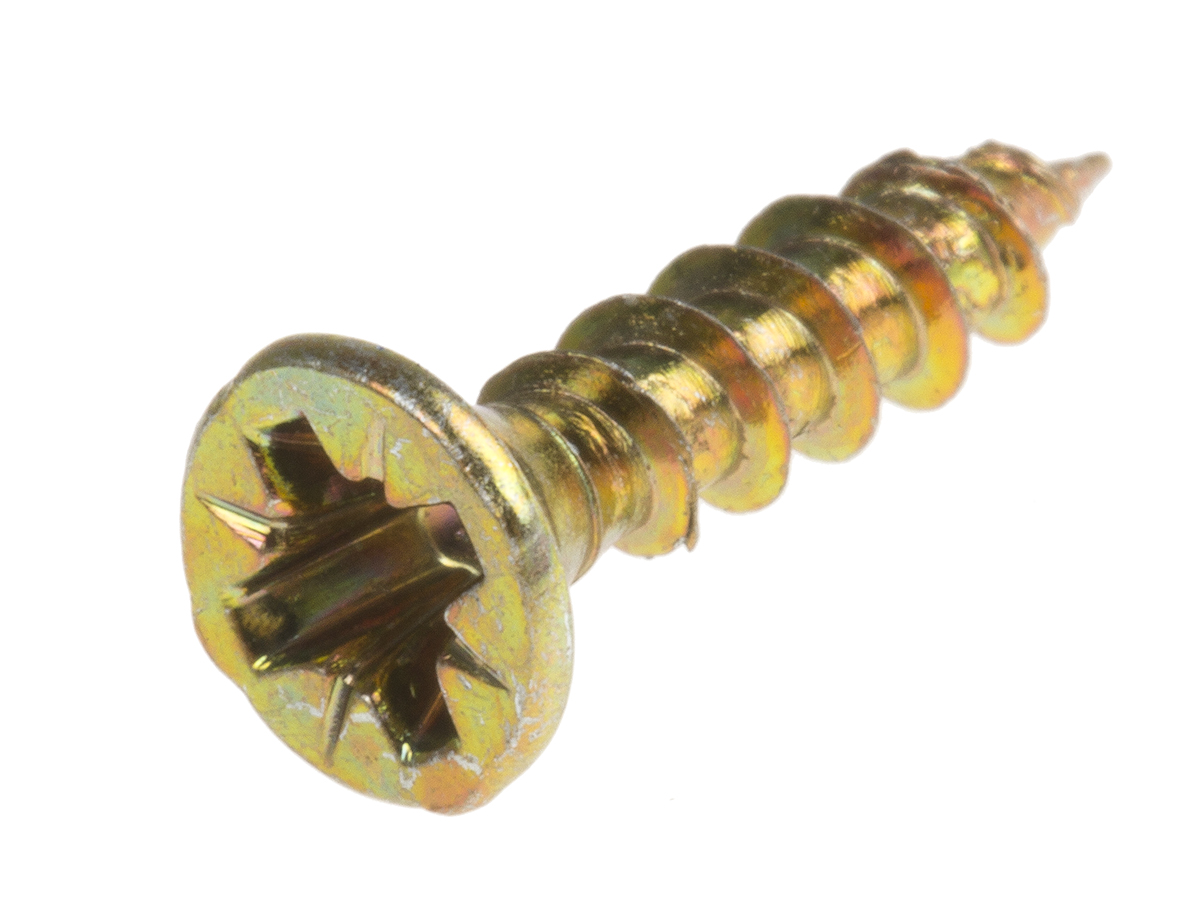 What are the Best Wood Screws to Buy?
The appropriate choice of the wood screw will largely depend on the type of wood. You will see the size of the screw clearly marked on the box. As an example, the size indication may be 5.00 x 75. Each of these figures equates to millimetres, with the 5.00 referring to the gauge of the screw and the 75 referring to the length.
Raised head and round head screws can be used whenever a decorative finish is required. They are particularly well suited to the fitting of household furniture. There is also the option of buying counterhead screws, featuring a head which will be positioned flush with the surface of the wood. The standard woodscrew is a good example, suitable for the majority of home fittings. Brass wood screws are resistant to rust and corrosion of oak timber. Stainless steel screws may also be used for such reasons.
FAQs
Can Wood Screws Be Used in Plasterboard?
Purpose-made screws have traditionally been used to hang plasterboard. However, they do have some limitations when compared with wood screws. They will rust if fitted in environments exposed to continuous moisture. The alternative is to fit flat countersunk deck screws in order to minimise the risks of splitting, cracking, and weakening. Such screws also feature a shank designed for continued durability and secure fitting.
How Long Should a Wood Screw Be?
Factors such as the type of wood, screw material, and lateral vs sheer forces will have a bearing on the appropriate length of the screw. However, there are some general guidelines that should be applied in the selection process.
You should ensure that the screw can penetrate a minimum of half the thickness of the bottom material. The screw should also be suitable for the secure fastening of two boards as required. There shouldn't be any protrusion.
How Much Weight Can A Wood Screw Hold?
There are various coarse-threaded wood screws that can hold weights in excess of 100 pounds when attached to purpose-made wood studs.
Do You Need to Use Pilot Holes for Wood Screws?
It is recommended that you drive in appropriately sized pilot holes before fitting screws. These holes should be inserted to stop the wood from splitting or cracking when fitting the screws. This will be particularly important when inserting screws into woods with complex structures, such as oak.
The insertion of a pilot hole will enable the screw to be easily guided into position. It should also be relatively easy to screw with a power drill or screwdriver. Without the pilot hole, there will be a significant risk of breaking the screw when a high level of pressure is applied.
Can You Use Wood Screws for Brick?
You should use masonry screws rather than wood screws for brick applications. The masonry screws are specially designed for use without a lag shield, plug, or alternative anchor system. They have longer threading (may be two inches or more) and different patterning to the wood variety. Masonry screws are also commonly used for metalworking purposes.
How Far Should Screws Go into Wood?
The thickness of materials being joined and the orientation of the parts of the joint will have a direct bearing on the appropriate screw length. You are advised to use a screw of at least 2 to 3 times the thickness of the material being added. It might be necessary to try screws of various lengths before identifying those best suited to your purposes. If the screw doesn't fully penetrate the material allowing for tightening, then you should cut off the end. It will be necessary to apply a screw of a shorter length.
Popular Brands
Browse our range and explore some popular wood screw brands below: